Bear Mountain Park, NY




Park Map




Virtual Tour of Bear Mountain



Bear Mountain State Park is the flagship of the Palisades Interstate Park System.

The park is 45 miles north of New York City, in the Hudson Highlands. Facilities include playing fields, picnic groves, rowboat docks on Hessian Lake, swimming pool and bathhouse, nature trails, an ice-skating rink, basketball court,Trailside Museums and Zoo, Iona Island Estuarine Reserve and Bird Refuge, Perkins Tower, and the Merry-Go-Round and pavilion. Banquet rooms, an ala carte restaurant, refreshment stands, and extensive parking lots are available. The Bear Mountain Inn, a rustic style historic building listed on the National Register of Historic Places, provides overnight accommodations, fine dining, banquet, and meeting facilities. The four stone lodges, Cliffhouse and Overlook Lodge all offer fantastic views of Hessian Lake and the Hudson River Valley.

Bear Mountain is primarily a day-use park. Accessible by car and bus, the park features an extensive system of pedestrian and hiking trails, including the first segment of the Appalachian National Scenic Trail and a key segment of the Long Path.



Please contact us at 845-786-2701.




Parking is $8 per car. Buses must have a permit.






After extensive renovations to bring it back to its original splendor, the historic Bear Mountain Inn is now open for business daily. The Inn has 15 luxury suites, a cafe, the Bear Mountain Trading Company gift shop featuring park memorabilia and local crafts, and over 20,000 square feet of meeting and catering space.

For more information, please call 845-786-2731 or explore www.visitbearmountain.com.





Bear Mountain Attractions   

View PDF


Bear Mountain Suggested Hikes   

View PDF


CLICK HERE FOR DIRECTIONS
Oktoberfest 2012
For more information, please call (845) 786-2701 extension 242.

Summer Car Shows
WEDNESDAY NIGHTS

May 15 through September 11, 2013
6:00 PM TO 9:00 PM
Weather Permitting

$4.00 ENTRANCE FEE PER VEHICLE

FEATURING:

50/50 RAFFLE
PRIZES & GIVEAWAYS
MUSIC
VENDORS
DELICIOUS FOOD
COME & ENJOY: FUN FOR THE ENTIRE FAMILY!

Visit the car club's website (cancellations can be found here too):
Pop Your Hood





CLICK HERE FOR DIRECTIONS
Trailside Museums and Zoo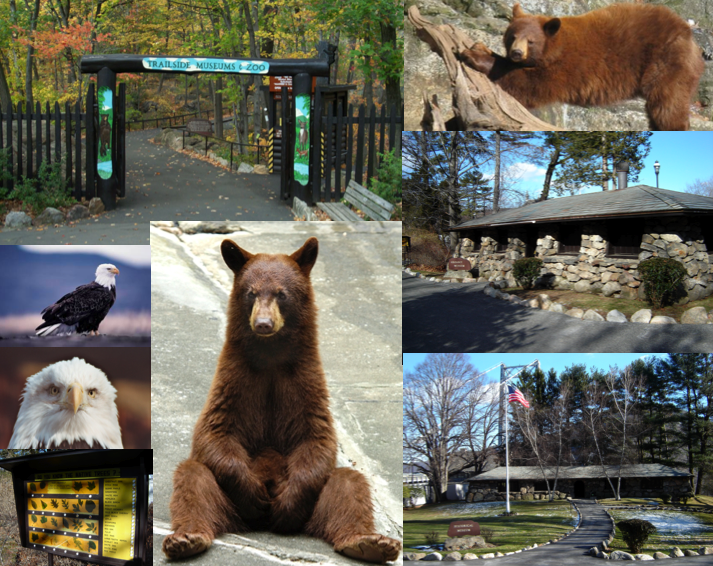 Adopt an Animal at the Bear Mountain Zoo

Nature study has been a staple in the Palisades Interstate Park since 1921, when the American Museum of Natural History installed a facility at the Boy Scouts headquarters on Lake Kanawauke. Four years later, the same Museum began a program for the study of insects in Harriman State Park. The Commission added a bear den in 1926, which became a small zoo, as the facility took in more injured animals in need of shelter. Today's Trailside Museums and Zoo occupy 40 acres on a bluff 250 feet over the Hudson River. The trails – including the first section of the Appalachian Trail – are among the oldest in the country; they link the various homes of Samantha, the eagle, and other birds of prey, the bear den, as well as habitats for beavers, a river otter, foxes, coyotes, etc. Staff uses various enrichment methods to stimulate the animals, ranging from toys, foods, and scents, to altering the landscape of the enclosures.

Open Daily from 10:00 AM -4:30 PM. Suggested donation: $1 per visitor.

Bear Mountain Inn


Bear Mountain Inn
The Bear Mountain Inn is one of the architectural jewels of the Palisades Interstate Park Commission and is a familiar landmark for many visitors. Built in Bear Mountain State Park in 1915, the building is a distinctive rustic style that complements its forested site above the Hudson River in Rockland County. Park employees constructed the Inn using natural materials, including stone and logs found in the park. The Inn's interior is outfitted in the rustic style with handcrafted chairs, sofas, tables, light fixtures, and other accessories all made of natural materials to complement the building's exterior design and woodland setting.

After extensive renovations to bring it back to its original splendor, the historic Bear Mountain Inn is now open for business daily. The Inn has 15 luxury suites, a cafe, the Bear Mountain Trading Company gift shop featuring park memorabilia and local crafts, and over 20,000 square feet of meeting and catering space. For more information, please call 845-786-2731 or explore www.visitbearmountain.com

1915 Restaurant located on first floor of Bear Mountain Inn
Featuring All Natural, Local and Organic Ingredients
Please visit www.visitbearmountain.com for Operational Hours

Gift Shop
Pick up all your Bear Mountain souvenirs at the Bear Mountain Inn Trading Company Gift Shop. We carry a variety of unique gifts for all ages, from children's plush toys to apparel and logo keepsakes.
The Bear Mountain Inn Trading Company is open Daily.
Please visit www.visitbearmountain.com for Operational Hours

Overlook Lodge and Stone Cottages
The Lodge features 24 guestrooms with either a commanding view of the Hudson River or the forests of Bear Mountain. Our newly enhanced guest rooms are a great reason to rediscover Bear Mountain featuring a luxurious, distinctly rustic feel to match the Lodge's spectacular location and views. Our 4 Stone Cottages offers 6 individual guestrooms with private baths and feature a common living area appointed with a fireplace, hospitality center and inviting views of Hessian Lake from the patio. For reservations please contact a guest services agent today at 845-786-2731 or online reservations

Champagne Sunday Brunch at the Overlook Lodge - Every Sunday 11 AM – 2:30 PM
Executive Chef Michael Matarazzo presents a traditional buffet-style brunch featuring a carving station, breakfast favorites with an omelet station, classic entrées, salad bar, and indulgent desserts. Unlimited complimentary champagne, mimosa and Bloody Marys The Overlook Lodge offers commanding views of the Hudson River and surrounding mountainside.
For Reservations please call 845-786-2731

Meetings & Celebrations
Let the beauty of Bear Mountain inspire your next meeting or celebration. Here, you'll find the ideal combination of rustic but modern facilities set in the beautiful Hudson Valley location. Bear Mountain features deluxe accommodations, dining services, and versatile venues designed to handle groups from 15 to 150. Whether you are planning a conference, wedding, retreat, or reunion, our pristine setting creates the ideal backdrop for gatherings of all shapes and sizes. For more information contact are catering mangers at 845-786-2731 or catering@visitbearmountain.com.

Paddle and Row Boat rentals are available from May-September. For more information, please contact us at 845-786-2731 or visit visitbearmountain.com

For more information, please contact us at 845-786-2731 or visit visitbearmountain.com

CLICK HERE FOR DIRECTIONS
Bear Mountain Pool
POOL IS NOW CLOSED

Summer Schedule
Monday- Friday 10 AM-5:30 PM
Saturday and Sunday and Holidays: 11 AM - 6:30 PM

Fees:
Adults (13+): $ 2
Children (6-12): $1
5 and under: FREE

PLEASE NOTE
*Lockers available. Must bring own locks.
*No Food/Drink allowed.
*Strollers not allowed on pool deck.
*No smoking on pool deck.
*Readmission swimmers must wait on line upon return to pool.




For more information, please call (845) 786-2701 extension 254 or 242.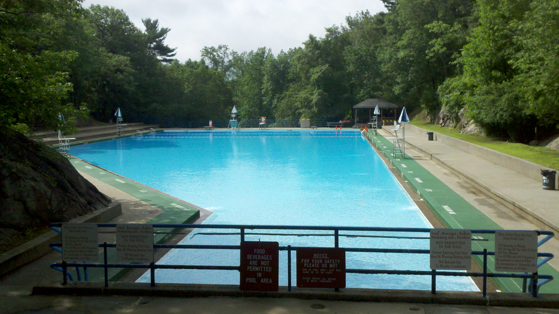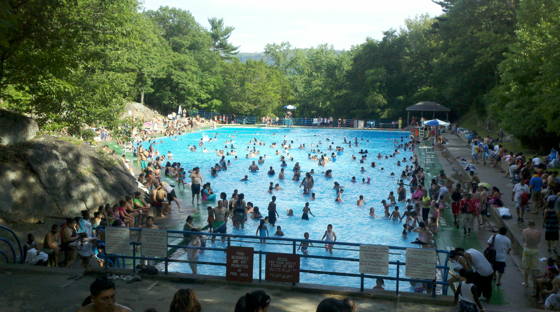 Bear Mountain Merry-Go-Round



The MERRY-GO-ROUND at Bear Mountain State Park features hand-painted scenes of the Park and 42 hand-carved seats of native animals including black bear, wild turkey, deer, raccoon, skunk, canada goose, fox, swan, bobcat, rabbit, and more.




Fall/Winter Hours of Operation:
Monday: Closed
Tuesday: Closed
Wednesday: Closed
Thursday: Closed
Friday: Closed
Saturday: 10 AM- 5 PM
Sunday: 10 AM- 5 PM



Rides cost $1.00 per person. For more information, call 845-786-2701. To book a party, call 845-786-2731.

The Merry-Go-Round at Bear Mountain State Park is a new building anchored in a distinguished history.

The stone-and-timber pavilion reflects the Adirondack "Great Camp" architectural style that became the model for other Palisades Park buildings such as the 1915 Bear Mountain Inn and, later, the National Park System. It is also the realization of an old dream. The Commission had discussed building a carousel at Bear Mountain in 1916, then again in the 1930s; on both occasions, however, insufficient funding had impeded the plans. Also in the 1930s, lack of funds had forced PIPC to sell the "Coney Island"-style carousel it operated at Hook Mountain.

The Merry-Go-Round also has distinguished origins in that it was made possible thanks to the Perkins family, of PIPC fame. George W. Perkins, to whom the Merry-Go-Round was dedicated, was PIPC's first president, from 1900 to 1920. He was followed at PIPC by his son George Perkins Jr., president from 1944 to 1960, and by his grandson, George Perkins III. Ann Perkins Cabot, PIPC Commissioner since 1990, the fifth Perkins to serve PIPC, made the donation on behalf of her family.

The 8,000-square-foot pavilion includes a viewing area, fireplace hearth, catering facilities for small receptions, and snacks and restrooms. The merry-go-round itself features 38 carved renditions of Hudson River Valley animals, including raccoons, bear, deer, eagles, foxes, river otters, and bobcats. Its rounding boards illustrate the park's early history with hand-painted scenes of the Hudson River, Perkins Tower, Bear Mountain Inn, etc. The music played during the rides was recorded at an original carousel in Rochester, New York, from a 1926 Wurlitzer Pipe Band Organ.

Perkins Memorial Tower
*Perkins Memorial Drive is now open for the season.*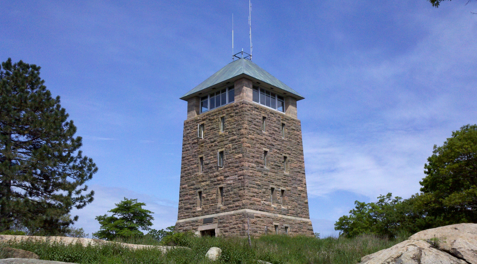 Like Perkins Tower on Facebook!

The Perkins Memorial Drive and Tower were built with funds provided by his descendants, to honor George Walbridge Perkins, first PIPC president and widely regarded as its founder.

The sinuous and steep Drive, which leads to the Tower 1,305 feet above the Hudson River, was blasted off the mountain by 1,500 workers using 50,000 tons of dynamite. The tower, built to serve as a weather station and fire lookout, served those purposes until the 1950s. Work began in 1932, thanks to labor provided by the NYS Temporary Relief Administration. The drive and tower were inaugurated in 1934.

With its 360-degree panorama, the Perkins Memorial Tower offers spectacular views of the Hudson River, the Bear Mountain Bridge, U.S. Military Academy at West Point, Storm King, and Fort Montgomery. Four states are visible (New York, New Jersey, Connecticut, and Pennsylvania), as well as the New York City skyline. The observation floor has interpretive displays that describe the distant views, which include several mountain ranges: the Taconics, Ramapos, Shawangunks, and even the Catskills. Perkins Memorial Drive and Tower truly are a highlight of any visit to Bear Mountain.

During the summer, if open during the day (weather permitting), the Park Police close the road at dusk. Perkins Memorial Tower is locked around 4:00pm.

Please call 845-786-2701 for more information.

CLICK HERE FOR DIRECTIONS
Bear Mountain Skating Rink
font>




Please note: Rink is OUTDOORS and UNCOVERED so dress appropriately. Lockers and refreshments are available.

2012-2013
Skating Season Ends on Sunday, March 3rd
Public Skate Sessions (Weather Permitting):

MONDAYS & TUESDAYS:
10AM-11:30AM;
12Noon-1:30PM

FRIDAYS:
8:00PM-9:30PM

SATURDAYS & SUNDAYS*:
10AM - 11:30AM
12Noon - 1:30PM
2PM - 3:30PM
4PM - 5:30PM
6PM - 7:30PM
8PM - 9:30PM (*No 8 PM on Sundays)


PLEASE SEE BELOW FOR OUR SPECIAL HOLIDAY SCHEDULES

*PRIVATE SESSIONS* must be reserved in advance (except on holidays) by calling the Bear Mt. Office at 845-786-2701.

FEE SCHEDULE FOR PUBLIC SKATING
(Anyone entering the building must pay the fee)

Adults (12 and up)……………………………… $4.00 per person…$5.00 after 6PM
Children aged 4 to 11…………………………… $3.00 per person…$4.00 after 6PM
Non-skaters and seniors……………………….…$2.00 per person
Children aged 3 or under………….. FREE

Skate Rental (per pair)…………….. $4.00
Skate Sharpening (per pair)………...$5.00
Parking (weekends and holidays)…. $8.00 per car
Buses........................................................Call for permit

PRICES AND SCHEDULE ARE SUBJECT TO CHANGE

HOLIDAY SCHEDULES:
(Holidays and Holiday Periods)




December 24 (Christmas Eve)
10:00AM-11:30AM, 12:00PM-1:30PM, 2:00PM-3:30PM, and 4:00PM-5:30PM

December 25 (Christmas Day) CLOSED

December 26 – December 30 (Holiday Break)
10:00AM-11:30AM, 12:00PM-1:30PM, 2:00PM-3:30PM, 4:00PM-5:30PM, 6:00PM-7:30PM and 8:00PM-9:30PM

December 31 (New Year's Eve)
10:00AM-11:30AM, 12:00PM-1:30PM, 2:00PM-3:30PM, and 4:00PM-5:30PM

January 1 (New Years Day)
10:00AM-11:30AM, 12:00PM-1:30PM, 2:00PM-3:30PM, 4:00PM-5:30PM and 6:00PM-7:30PM

January 21 (Martin Luther King Day)
10:00AM-11:30AM, 12:00PM-1:30PM, 2:00PM-3:30PM, and 4:00PM-5:30PM

February 3 (Super Bowl)
10:00AM-11:30AM, 12:00PM-1:30PM, 2:00PM-3:30PM, and 4:00PM-5:30PM

February 18 (President's Day)
10:00AM-11:30AM, 12:00PM-1:30PM, 2:00PM-3:30PM, and 4:00PM-5:30PM

February 19 – February 20 (President's Week)
10:00AM-11:30AM, 12:00PM-1:30PM, and 2:00PM-3:30PM

*Special Note: Children's birthday party packages are available through the Bear Mountain Office.

For more information, contact Bear Mountain State Park at (845) 786-2701 ext. 266 or visit Bear Mountain Ice Rink

CLICK HERE FOR DIRECTIONS
Iona Island


The Island's geography made it an ideal military post. During the Revolutionary War, American General George Clinton strung a chain between Anthony's Nose on the east side of the Hudson River and Fort Montgomery on the west side in an effort to stop British ships. More than a century later, the Island caught the attention of the Navy which wanted a site that would be "sufficiently remote from populous towns and so far from the seacoast as to be safe from attack." Iona Island fit the bill: a 129-acre rock 40 miles upriver from New York City, it was large enough to accommodate significant storage facilities, close enough to the ocean for its cargo to reach supply ships quickly, and sufficiently isolated to make an attack on it unlikely. The Navy purchased the island in 1899, and it quickly became an ordnance plant where ammunition was stored, assembled, and tested. During the first world war, most of the ammunition and explosives used by the Atlantic Fleet transited from Iona Island. The facilities were further expanded during World War II to accommodate the need to aseemble naval ammunition for the war effort. By the time the Navy decided to decommission the depot in 1947, it counted nearly 150 buildings. Only six remain.

With the blasts of test detonations long gone, Iona has returned to a more natural state. Migratory birds are now regular visitors in summertime, as are bald eagles during the winter. New York has designated the Island as an Important Bird Area in 1997. In 1976, the National Park Service designated Iona Island a National Natural Landmark. Iona Island is one of four wetlands that make up the Hudson River Estuarine Reserve.

PIPC purchased Iona Island in 1965 for $290,000 from the U.S. Navy.