Minnewaska Preserve, NY



Park Map



2012 Youth Summer Programs





Virtual Tour of Minnewaska



PLEASE NOTE: Minnewaska State Park Preserve is open for hiking, biking, picnicking, and climbing at this time. Please adhere to all posted trail closings and notices. Please note all footbridges crossing the Peter'skill stream are out, use caution at stream crossings. Access through the stream may not be possible during high water events.



The following trails will remain closed until further notice:

*Lower Awosting Carriage Road
*Awosting Falls Carriage Road closed at the waterfall
*Jenny Lane Footpath will be closed at the intersection with Blueberry Run Footpath

All other carriage roads and footpaths are open at this time.



For more information or updates, please call the Park Preserve Office at 845-255-0752. Thank you.

Minnewaska State Park Preserve is situated in Ulster County on the dramatic Shawangunk Mountain ridge that rises more than 2,000 feet above sea level. The terrain is rugged and rocky, blanketed by dense hardwood forest encircling two lakes. Clear streams cut into valleys, incising sheer cliffs and ledges and emerging in waterfalls. Hiking, biking, horseback riding and cross-country skiing are very popular activities. Visitors also enjoy swimming, picnicking, boating and marveling at the scenery.

Minnewaska has been voted by Hudson Valley Magazine's readership as 2008's "Best Park". Minnewaska State Park Preserve was also voted this same distinction in 2006 and 2007!!

With its 22,500 acres of cliffs, summits and plateaus, Minneswaska State Park Preserve is the uncut gem of the Palisades Interstate Park system. Its sapphire lakes, lapidary cliffs, soaring precipices, panoramic views, and forests of dwarf pitch pine and oak occupy the high ground along the crest of the dramatic Shawangunk escarpment.

The preservation of this unique landscape of extraordinary ecological significance began in 1970, when the Commission acquired the first 7,100 acres from The Nature Conservancy. The Preserve grew over the next 25 years, notably with 1,500 acres added in 1975 and another swath of 1,200 acres purchased in 1987.

In addition to its dazzling beauty, Minnewaska – and the Shawangunks Ridge – serves our public health and recreation needs. The Shawangunks act as one of the shields and protectors of the Highlands, a parallel ridge of forests and wetlands that stretch from northeastern Pennsylvania to southwestern Connecticut and provide clean water to one of the most densely populated areas in the world. Effectively protecting the ridge is thus invaluable to protecting the Highlands – and the drinking water of millions.

More than 250,000 visitors come each year to recreate and learn about the Shawangunks at Minnewaska State Park Preserve.

TECHNICAL ROCK CLIMBING PERMITTED.

Pets:
Dogs only, must be on a leash not more than 6 feet. Not allowed in buildings, camping, picnic or bathing areas or on walkways. PLEASE NOTE: Pets are NOT permitted on the cross-country ski trails when they are groomed and open for cross-country skiing only.

Seasons/Hours:
Open year round, on a day use basis. Deer hunting is allowed in specific sections of the park during season. EMPIRE PASSPORT DOES NOT APPLY TO CROSS COUNTY SKIING OR ROCK CLIMBING.

Contact Information:
5281 Route 44-55
Kerhonkson, NY 12446
Phone: (845) 845-255-0752



For more information, please call 845-845-255-0752. Parking is $ 8 per car.





CLICK HERE FOR DIRECTIONS
Shevchenko Property
under construction

CLICK HERE FOR DIRECTIONS
Swimming
2012 Swimming Information

Lake Minnewaska
6/16/12- 9/3/12 (Monday-Sunday): 11:15 AM- 6:45 PM.

Lake Awosting
6/16/12- 9/3/12 (weekends and holidays): 11 AM- 5:30 PM.
6/25/12- 8/31/12 (weekdays): 11 AM- 5:30 PM.

BACK
BACK TO TOP
Become A Friend of the Palisades Parks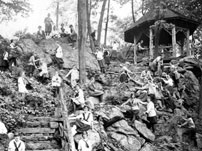 Here are some related links:






Enter Our Photo of the Month Contest

Event/Permit Application
Protect the Palisades
Hudson River Valley Institute
NJ Section of Palisades Interstate Park
Bear Mountain Inn
Historic Hudson River Towns
Orange County Tourism
I Love NY
NYS Parks
Purple Heart Hall of Honor
Hudson River Valley National Heritage Area
Rockland Lake Nature Center
New York-New Jersey Trail Conference
Parks & Trails NY
Friends of Rockland Lake & Hook Mountain
Reserve America
Friends of the Shawangunks
Artists in the Parks
Bear Mountain Ice Skating Rink
Trailside Museums & Zoo
Thendara Mountain Club
Maheto Group Camp
Palisades Parklands
Map Guide
MAP
Palisades Interstate
Park System
MAP
Bear Mountain
Attractions
MAP
Bear Mountain
Suggested Hikes
MAP