Washington's Headquarters: Woman of the History Award - 7 November, 2010
Any woman who has made a contribution to the history of the Hudson Valley through education, promotion, or preservation is eligible to be nominated for this award.

The nominee's service to the historic community shall be taken into consideration. The nominee can be someone who was involved in a project dealing with history and/or historic preservation. This individual must have been, in some way, influential in promoting the study of history, and thereby, encouraging the study and promotion of Hudson River Valley history even at its most basic, or grassroots level.

All of this should be elaborated upon by way of example in the nomination form. Completed forms will be reviewed by a selection committee including Washington's Headquarters Staff, volunteers, and previous Woman of History Award recipients. Nominees will be notified within one month after the submission deadline.

The 2011 award will be presented at "The General's Lady" on Saturday, March 26, 2011. Deadline for receipt of applications is January 7, 2011.

For more information please call 845-562-1195.
BACK
BACK TO TOP
A View for Generations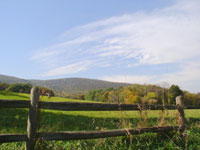 View Archived Newsletters
Palisades Parklands
Map Guide
MAP
Palisades Interstate
Park System
MAP
Bear Mountain
Attractions
MAP
Bear Mountain
Suggested Hikes
MAP