New Windsor Cantonment




2013 Events





The Cantonment was a thriving community of 8,000 of General George Washington's soldiers, their wives and children, and hundreds of skilled artisans and medical personnel, who together spent the final winter of the Revolutionary War encamped in the Hudson Valley. The term "cantonment" referred a more permanent post than a tent camp, and at New Windsor it consisted of nearly 600 log huts built by the soldiers and private homes in the area that played host to Major Generals. After seven years of fighting, General Washington's army arrived here in October 1782, resolved to continue training through the winter for a possible attack on British-controlled New York City. That winter, Washington defused a suspected insurrection amongst his officers with perhaps the most impassioned speech of his career, requesting their loyalty and support for the young republic. Instead of receiving orders to return to the battlefield, the orders announced here on April 19, 1783 proclaimed the cease-fire that ended the Revolutionary War.

Today, staff members dressed in the period's soldiers uniforms and civilian clothing provide an up-close and personal view of life in an 18th-Century military camp. Throughout the day, guests enjoy live demonstrations of musket drills, carpentry and blacksmithing, sometimes accompanied by demonstrations of open-hearth cooking and period medicine. A visitor center and exhibit galleries explain the historical significance of the camp and feature original military equipment and documents. One gallery showcases a variety of cannon and tells the story of an earlier encampment at New Windsor, the 1780-81 winter cantonment of the Continental Artillery troops, whose training nearby prepared them for the siege of Yorktown, Virginia, the last major battle of the war. Special events throughout the year feature period style entertainment and programs designed especially for children.

The New Windsor Cantonment State Historic Site has been named as a significant stop on the Hudson River Valley National Heritage Area Revolutionary War trail.

Winter hours: Grounds are open throughout the winter, but with limited accessibility in snow or icy conditions.

Telephone: (845) 561-1765 ext. 22


CLICK HERE FOR DIRECTIONS
Educational Programs
Knox's Headquarters & New Windsor Cantonment State Historic Sites
PO Box 207, Vails Gate, NY 12584
Phone: 845-561-1765
Fax: 845-561-6577

Educational Programs


"Through the Ranks"

Step back in time to the 1782-83 encampment of General George Washington's Continental Army as your guides in period-style dress bring you "through the ranks" of the Continental Army and through the lifestyles of Americans, from the gentry and officers, through the slaves and soldiers.

Your day begins at the country estate of John and Catharine Ellison as you tour an elegant home built in 1754, furnished as the headquarters that served three of Washington's top generals during the Revolutionary War. See military offices, the Ellison family's living areas and the cramped quarters where six enslaved Africans served the household. Visit the ruins of a 1741 grist mill in the scenic Silver Stream gorge where Hudson Valley wheat was turned into flour destined for markets in the West Indies and Europe. The lifestyle of the gentry who lived here and officers who served here is contrasted with that of the families who lived in the army camp nearby.

The tour continues two miles away at the Cantonment, the military enclave that once boasted nearly 600 log buildings housing 7,500 soldiers and 500 of their wives and children. The activities of this thriving community are represented through living history demonstrations including blacksmithing, medical treatment and musket drill. Here General Washington headed off a military challenge to the new nation and ordered the cease-fire that brought the Revolutionary War to a close.

This three hour program is adaptable for primary and secondary school students. Admission is currently $3 per person and subject to change. Please note, this popular tour is generally booked six months or more in advance. Please call Michael McGurty at 845-561-1765 to inquire about this and other educational programs.


BACK
BACK TO TOP
Historic Sites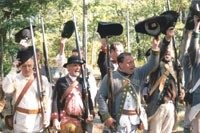 Here are some related links:




Submit Pictures for Photo of the Month
Event/Permit Application
Protect the Palisades
Hudson River Valley Institute
NJ Section of Palisades Interstate Park
Bear Mountain Inn
Historic Hudson River Towns
Orange County Tourism
I Love NY
NYS Parks
Purple Heart Hall of Honor
Hudson River Valley National Heritage Area
Rockland Lake Nature Center
New York-New Jersey Trail Conference
Parks & Trails NY
Friends of Rockland Lake & Hook Mountain
Reserve America
Friends of the Shawangunks
Artists in the Parks
Bear Mountain Ice Skating Rink
Trailside Museums & Zoo
Thendara Mountain Club
Palisades Parklands
Map Guide
MAP
Palisades Interstate
Park System
MAP
Bear Mountain
Attractions
MAP
Bear Mountain
Suggested Hikes
MAP