Stony Point Battlefield and Lighthouse, NY




2013 Calendar of Events

The Stony Point Battlefield is an 87-acre promontory commanding the Haverstraw and Stony Point Bays. In July 1779, the American Corps of Light Infantry, led by General Anthony Wayne, surprised the British forces during a successful 33-minute midnight assault and captured the site.

The site is home to the Stony Point Lighthouse, the oldest extant lighthouse on the Hudson. Built in 1826, it was in operation for 99 years before it was replaced by an automatic beacon. The Stony Point Battlefield also features a museum with original weapons, and outstanding views of the Hudson River.

The Stony Point State Historic Site is listed as a significant stop along the Hudson River Valley National Heritage Area Revolutionary War Trail.

The Soldier's Camp is open on Saturday from 11:00 a.m. to 4:00 p.m. and Sunday from 1:00 p.m. and 4:00 p.m. staffing and weather permitting.

Winter hours are in effect. Site grounds will be open Monday to Friday from 10:00 a.m. to 4:00 p.m., weather permitting, and closed on the weekends until April 17, 2013.

Lighthouse tours can be arranged by advance reservation Wednesday through Sunday, weather and staffing permitting, from 10:30 a.m. to 3:30 p.m. Call the site office at 845-786-2521.

Artillery demonstrations presented on Saturday and Sunday at 3:00 p.m. weather and staffing permitting.

Picnic tables: tables are available near the parking area and in the pavilion in the fort, but please observe our CARRY-IN - CARRY-OUT trash policy, and take your trash home with you. Fires are not permitted.

SCHOOL VISIT PROGRAM FOR 4TH thru 7TH GRADES

The main goal of the class visit to the museum is to familiarize students with the battle of Stony Point and allow children a hands-on opportunity to learn about their local history. Upon arrival, a costumed staff member will greet the students and walk with them to the museum where the activities will begin. Students will enlist as soldiers in General Washington's army and learn 18th century marching drills. Students will have the opportunity to enjoy the museum where they will how the Continental Army was able to capture the British fort at Stony Point in a surprise midnight attack. Students will also learn about the daily life of Continental and British soldiers and officers by viewing artifacts and reproductions in the soldier's camp. This includes watching a demonstration of how a soldier made musket balls over a camp fire. The day concludes with a musket demonstration and firing.

Our onsite class visit program is offered September 15 thru October 31st and April 15th thru June 5th and is geared towards no more than 50 participants at one time. The two class limit ensures that all students have the opportunity to participate. The program begins promptly at 10:00 a.m. and ends at 1:00 p.m., including a 30 minute lunch break.
Please note that we participate in New York State's carry-in-carry-out trash policy, so plan on taking all lunch garbage back to school on the bus. As 75% of the program takes place outdoors, rain dates will be scheduled for every school group.
The fee is $3.00 per person and payment should be made on the day of the visit.

If you have any questions or would like to schedule a class visit, please call the School Program Coordinator, at the museum office, 845-786-2521. We encourage you to contact us in the beginning of the school year as we book-up quickly for the following spring.


CLICK HERE FOR DIRECTIONS
BACK
BACK TO TOP
Historic Sites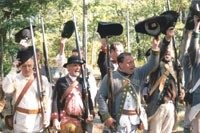 Here are some related links:




Submit Pictures for Photo of the Month
Event/Permit Application
Protect the Palisades
Hudson River Valley Institute
NJ Section of Palisades Interstate Park
Bear Mountain Inn
Historic Hudson River Towns
Orange County Tourism
I Love NY
NYS Parks
Purple Heart Hall of Honor
Hudson River Valley National Heritage Area
Rockland Lake Nature Center
New York-New Jersey Trail Conference
Parks & Trails NY
Friends of Rockland Lake & Hook Mountain
Reserve America
Friends of the Shawangunks
Artists in the Parks
Bear Mountain Ice Skating Rink
Trailside Museums & Zoo
Thendara Mountain Club
Palisades Parklands
Map Guide
MAP
Palisades Interstate
Park System
MAP
Bear Mountain
Attractions
MAP
Bear Mountain
Suggested Hikes
MAP