Washington's Headquarters, Newburgh, NY



2013 Events

Site of the Hasbrouck house, where George Washington commanded his troops for 16 1/2 months at the close of the Revolutionary War. Washington's Headquarters also features an adjacent 1910 Georgian Revival style Museum building, which contains an extensive collection of historic artifacts. New York State acquired the 6 1/2 acre site in 1850, making it the first property in the United States to be publicly purchased and opened for the sole purpose of historic preservation. Convenient parking and handicap accessability.

Washington's Headquarters State Historic Site is now listed as a significant stop along the Hudson River Valley National Heritage Area Revolutionary War Trail. It is also a favorite destination for bus tours and school groups. The view of the Hudson Highlands coupled with the Hudson River is breathtaking.

Washington's Headquarters State Historic Site will be open on Thursdays, Fridays and Saturdays from 10 AM until 3 PM during the winter months. Visitors will have the opportunity to come in from the cold to tour the headquarters General Washington used during the last 16 ½ months of the Revolutionary War and Unpacked & Rediscovered: Selections from Washington's Headquarters' Collection, a new Museum exhibit. Special Events and themed programs are offered throughout the year. Education and Outreach programs are available for schools and groups.



For more information, please call (845) 562-1195




CLICK HERE FOR DIRECTIONS
New Exhibit
"Unpacked & Rediscovered: Selections from Washington's Headquarters' Collection."

Come and browse through our exhibit featuring military weapons, domestic implements, dolls, souvenirs of past wars, local Newburgh history, memorabilia, and so much more. We guarantee you'll come back again and again to see these examples of the grass roots of the American preservation movement.

The exhibit utilizes an "open storage" format, where a large number of objects, will be on display. An electronic catalog will maximize a visitor's self-directed learning experience. This will afford visitors a plethora of knowledge about every object on view, including images, details, curatorial information, and related object references.

Woman of History Award
Mary Etta Schneider to Receive 2013 Martha Washington Woman of History Award

Washington's Headquarters State Historic Site has announced this year's recipient of the Martha Washington Woman of History Award is historic preservationist, Mary Etta Schneider. Ms. Schneider dedicates her time and resources as an advisor, fund-raiser and supporter of major nonprofit organizations benefiting education, history, and the preservation of the Hudson Valley. She currently serves as President and Board Chair of Historic Huguenot Street and also serves on the Board of the State University of New York.

Ms. Schneider's efforts are particularly focused on Historic Huguenot Street, where she works tirelessly to assure that this privately-funded, National Historic Landmark District remains grounded in its mission to preserve history and educate the public. Recognizing the financial, preservation and educational challenges facing house museums, Ms. Schneider led the Board in repositioning Historic Huguenot Street in order to preserve it for future generations. She helped shape this significant historic site into a focused operation, worthy of inclusion in the short list of America's best known and beloved centers of national pride and has created a pathway towards becoming an economically sustainable model for other under-recognized historic properties. As validation of the historic significance of this landmark, in August 2012 Historic Huguenot Street was selected as one of two hundred most significant sites in Governor Andrew M. Cuomo's New York "Path Through History," a statewide roadmap that features historic sites and events throughout the Empire State, bringing more visitors through improved highway signage and enhanced civic awareness.

There are enduring personal reasons for Ms. Schneider's commitment. She is descended from many of the French settlers who founded New Paltz in 1677. She also has direct family ties to Washington's Headquarters itself. She is descended from Abraham Hasbrouck, grandfather of Jonathan Hasbrouck, builder and owner of the stone house that became Washington's Headquarters. Ms. Schneider's commitment to the region's history also extends to her home. She currently resides in a distant ancestor's late 17th Century stone house in High Falls, New York. She makes the personal sacrifices every day that are required to experience firsthand the joys and frustrations of preserving history.

Born in Rhinebeck, New York, Ms. Schneider received a Bachelor of Arts in Math and Economics from SUNY Oswego. She lived for many years in New York and Boston and has travelled around the world during her career. Prior to moving to the Hudson Valley, she was a leader in the banking industry for close to 30 years, playing a major role on successive CEO teams for BankBoston, FleetBoston Financial and Bank of America.



The presentation of the "Martha Washington Woman of History Award" will take place on March 23rd at Washington's Headquarters, during their Women's History Month program, "The General's Lady." The public is welcome to attend the program, starting at 1:00 PM. For further details or directions, call 845-562-1195.



Annual Volunteer Fair
Washington's Headquarters State Historic Site is accepting applications for community not-for-profit organizations to participate in the 3rd Annual Newburgh Volunteer Fair. This event is to be held at Washington's Headquarters on Saturday, May 4th, between 11:00 AM until 3:00 PM. Safe Harbors of the Hudson and the Newburgh Free Library are in partnership with the historic site coordinating this program.

Each year, the number of organizations participating in the Volunteer Fair grows. The day provides not-for-profit organizations an opportunity to raise awareness – community-wide – as regards the special needs that are met by their organizations. These organizations rely upon volunteers to assist in their endeavors. Representatives of these organizations will be available to sign up those individuals who wish to join their efforts.

All are invited to attend the Fair, visit the tables, and ask first-hand what these organizations are doing. There also will be tours of the Hasbrouck House, used by General and Mrs. Washington, during the Revolutionary War. Support from our sponsors has made admission to the Hasbrouck House and the Museum free on this day.



For an application for your organization to participate click here. For further information or directions call 845-562-1195.



BACK
BACK TO TOP
Historic Sites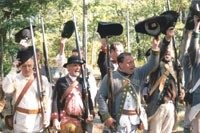 Here are some related links:




Submit Pictures for Photo of the Month
Event/Permit Application
Protect the Palisades
Hudson River Valley Institute
NJ Section of Palisades Interstate Park
Bear Mountain Inn
Historic Hudson River Towns
Orange County Tourism
I Love NY
NYS Parks
Purple Heart Hall of Honor
Hudson River Valley National Heritage Area
Rockland Lake Nature Center
New York-New Jersey Trail Conference
Parks & Trails NY
Friends of Rockland Lake & Hook Mountain
Reserve America
Friends of the Shawangunks
Artists in the Parks
Bear Mountain Ice Skating Rink
Trailside Museums & Zoo
Thendara Mountain Club
Palisades Parklands
Map Guide
MAP
Palisades Interstate
Park System
MAP
Bear Mountain
Attractions
MAP
Bear Mountain
Suggested Hikes
MAP