Washington's Headquarters, Newburgh, NY


Site of the Hasbrouck house, where George Washington commanded his troops for 16 ½ months at the close of the Revolutionary War, Washington's Headquarters also features an adjacent 1910 Georgian Revival style Museum building, which contains: "Unpacked & Rediscovered: Selections from Washington's Headquarters' Collection", a new Museum exhibit. New York State acquired the 6 1/2 acre site in 1850, making it the first property in the United States to be publicly purchased and opened for the sole purpose of historic preservation.

Washington's Headquarters State Historic Site is now listed as a significant stop along the Hudson River Valley National Area Revolutionary War Trail. It is also a favorite destination for bus tours and school groups. The view of the Hudson Highlands coupled with the Hudson River is breathtaking.

Winter Hours in Effect:The site will be available to visitors by appointment Tuesday through Thursday and also open for special events such as Warm Up with the Washingtons on December 8th, Winter Welcome Week (December 26th-28th), President's Day Weekend (February 15th-17th) and the General's Lady in March.

Special Events and themed programs are offered through the year. Education and Outreach programs are available for schools and groups. Convenient parking and handicap accessability.



For more information, please call (845) 562-1195




CLICK HERE FOR DIRECTIONS
New Exhibit
"Unpacked & Rediscovered: Selections from Washington's Headquarters' Collection."

Come and browse through our exhibit featuring military weapons, domestic implements, dolls, souvenirs of past wars, local Newburgh history, memorabilia, and so much more. We guarantee you'll come back again and again to see these examples of the grass roots of the American preservation movement.

The exhibit utilizes an "open storage" format, where a large number of objects, will be on display. An electronic catalog will maximize a visitor's self-directed learning experience. This will afford visitors a plethora of knowledge about every object on view, including images, details, curatorial information, and related object references.

Woman of History Award
ACCEPTING NOMINATIONS FOR THE
"MARTHA WASHINGTON WOMAN OF HISTORY AWARD"

Each March, Washington's Headquarters State Historic Site recognizes a woman who has distinguished herself in the field of Hudson Valley history by bestowing upon her the "Martha Washington Woman of History Award." Appropriately, the award emanates from where Martha Washington resided with her husband, General George Washington, during the last months of the Revolutionary War. That the ceremony takes place in March, during Women's History Month, is indeed fitting.

The Woman of History award acknowledges Martha Washington's important place in history as a devoted patriot in support of the American Revolution and the ensuing new nation. This is the twelfth year the award has been given, continuing the site's mission to educate the public about the history of our great state and national heritage. Previous recipients are:



2003 Janet Dempsey - Author/Historian
2004 Carol Ash – former Commissioner of Parks,
Recreation and Historic Preservation
2005 Patricia Favata - Author/Historian
2006 Barbara Bedell - TIMES-HERALD RECORD
columnist
2007 Mary McTamaney - City of Newburgh Historian
2008 Mary Mangione - former Hudson River Valley
Greenway Director
2009 Elizabeth McKean - City of Newburgh Records
Management Director
2010 Mary Ann Fish - Environmental Historian
2011 Mara Farrell – Community Activist
2012 Stella Bailey – Historian/Preservationist
2013 Mary Etta Schneider - Preservationist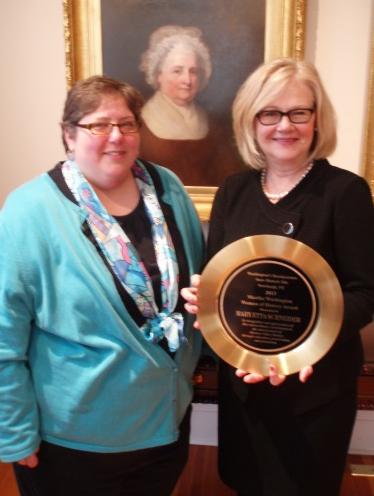 Site Manager Elyse Goldberg (L) with 2013 Woman of History recipient Mary Etta Schneider



We know there are many women who are dedicated to sharing and preserving our history. Perhaps you know of a woman who shares her love of history with children by taking them to historic places during her free time? Is there a woman who has done research about the Hudson Valley and has shared her findings to encourage others to do the same? Do you know a woman who has used her private time or resources to preserve a landmark of historic significance? These are just a few examples of what could qualify a woman to be a recipient of the award. As you can perceive, the nomination field is open to any woman who has cultivated interest and awareness of Hudson Valley history, either locally or nationally.



Nominations may be completed and submitted by January 6, 2014. To access a nomination form, please click here or call (845) 562-1195. The award will be given during a ceremony in March.

BACK
BACK TO TOP
Historic Sites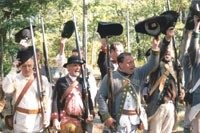 Here are some related links:




Submit Pictures for Photo of the Month
Event/Permit Application
Protect the Palisades
Hudson River Valley Institute
NJ Section of Palisades Interstate Park
Bear Mountain Inn
Historic Hudson River Towns
Orange County Tourism
I Love NY
NYS Parks
Purple Heart Hall of Honor
Hudson River Valley National Heritage Area
Rockland Lake Nature Center
New York-New Jersey Trail Conference
Parks & Trails NY
Friends of Rockland Lake & Hook Mountain
Reserve America
Friends of the Shawangunks
Artists in the Parks
Bear Mountain Ice Skating Rink
Trailside Museums & Zoo
Thendara Mountain Club
Palisades Parklands
Map Guide
MAP
Palisades Interstate
Park System
MAP
Bear Mountain
Attractions
MAP
Bear Mountain
Suggested Hikes
MAP